Project Città Cardioprotetta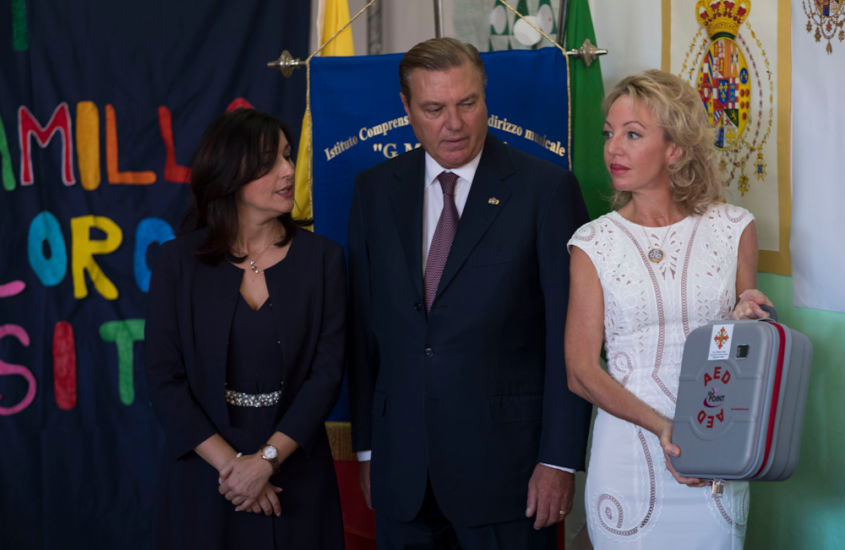 The Project "Città Cardioprotetta", launched by the Sacred Constantinian Military Order of St. George in collaboration with the Pediatric Hospital Bambin Gesù, wants to spread awareness among citizens. Each Sacred Constantinian Military Order of St. George's delegation will be in charge of finding the schools where the awareness campaign could take place. Some very useful equipment was offered across Italy in order to be able to be first responders if needed. First aid, which starts with a semi-automatic defibrillator, allows an immediate intervention in case of heart attack.
Since this equipment is very easy to use, everybody can help in case of need, giving first aid. HRH Princess Maria Carolina of Bourbon Two Sicilies, Duchess of Palermo will be the project's sponsor. At first the project was launched by the Sicilian Delegation of SMOC. The project was inaugurated in Noto with TRH Dukes of Castro, the Duchess of Calabria and Palermo and the Duchess of Noto. Later, it was inaugurated in Calabria, and the project's sponsor there was H.R.H. Princess Beatrice of Bourbon Two Sicilies.
Princess Camilla of Bourbon Two Sicily, Prince Charles of Bourbon Two Sicilies, Princess Maria Carolina and Principess Maria Chiara in Noto for the Project "Città Cardioprotetta"